I am asked this questions a lot so I thought I'd start a thread to answer the question. This was a long process

I started to learn about GMMG's when I flew to Tampa to look at Year One Formula #5. It was a very low mile car & when I drove it I knew it was very special but out of my price range & I didn't want cloth seats. I had no clue what I was looking at & it looked amazing in the Florida sun. I know about TA's & Firehawk's but nothing about GMMG's.
I've loved cars since I was under 10 & have owned way over 100. I actually went to to Florida to look for a winter place, found one, put a deposit down had Sandy fly down for the final OK. She hated it & refused to do anything in Florida. This angered me & I told her that if there isn't going to be a place in FLA then I was going home & start buying a bunch of cars with my money. As it turned out Sandy was right, the FLA real estate market tanked & I'm glad we didn't do it.

I already had a few cars in my collection ('68 Chevelle that I factory ordered -survivor, Van & a few TA's & Firehawk's). That YOF #5 was all over my 'Monkey-mind' & I started to look for a GMMG. I found HRE #1975 in northern MN & bought it.



I had my GMMG but one is never enough. I now have seven. The more I researched I quickly realized how super rare Matt's cars were. As I found GMMG's for sale I would talk with Matt all the time & he would verify the cars for me. If you know Matt there were never any short calls. Sometimes we'd talk many times every week. I started buying & selling Firehawk's & WS6's & slowly added to the collection. I visited Matt @ GMMG & he came to visit me & sign my cars. He was only here a couple of days & we didn't sleep much. I was picking his brain for anything GMMG. When I visited him in Georgia I suspected their could be some financial issues so my radar was up.

Matt & I became friends, I started talking & working on him to start the GMMG Registry. I felt so strongly about documenting & preserving the information ("JUST-IN-CASE'") on his special cars & I know I made a pest of myself. After he visited me, signed my cars & realized that I was for real he finally agreed. I went to GMMG February/March 2010 & spent 4 or 5 days with Matt. Angel, Mike & Ron were already gone by now. Matt opened up the files & records for me & I thought I'd died & gone to heaven. Pinch me, please! While I was going through the files Matt was loading photos & car build information onto a Zip drive for me. One wasn't enough - man did he have the information to give me. I was like a kid in the candy store, slept on the couch & didn't sleep much at all. My nose was always in the file cabinets. I delivered a car for Matt to a big collector in NC, picked my old Firehawk that I bought back in VA, returned to GMMG & headed to FLA in the Firehawk to see my pals. I visited Steve (bought PE #37 from him) on my way to St. Pete. All I could think about in FLA was getting back to GMMG, I returned, spend a few more days there, shipped the Firehawk back to WI & drove the Trail Blazer home.

I stopped @ GMMG again with PE #37 in June 2010 while on the Power Tour & my earlier thinking was right on - not much going on - only a few cars - just a couple of staff. I was devastated & knew the Registry I started March 2010 was very important now. Matt was a tremendous resource for me & I can never thank him enough. We would talk all the time. Rumor's started to surface on a number of Forum's about the health of GMMG & Matt. I was very protective or Matt & GMMG & still am to this day. If anyone said anything negative I was on them & not happy. I saw a bunch of things that Matt had (including the little #8 Jr. car) & mentioned that I would really like to buy the items if he ever wanted to sell them. In late November 2012 Matt called me, I bought a bunch of things & arranged pick up. Then the telephone went dead in late November & I wasn't able to reach Matt & we haven't talked in over 2 years.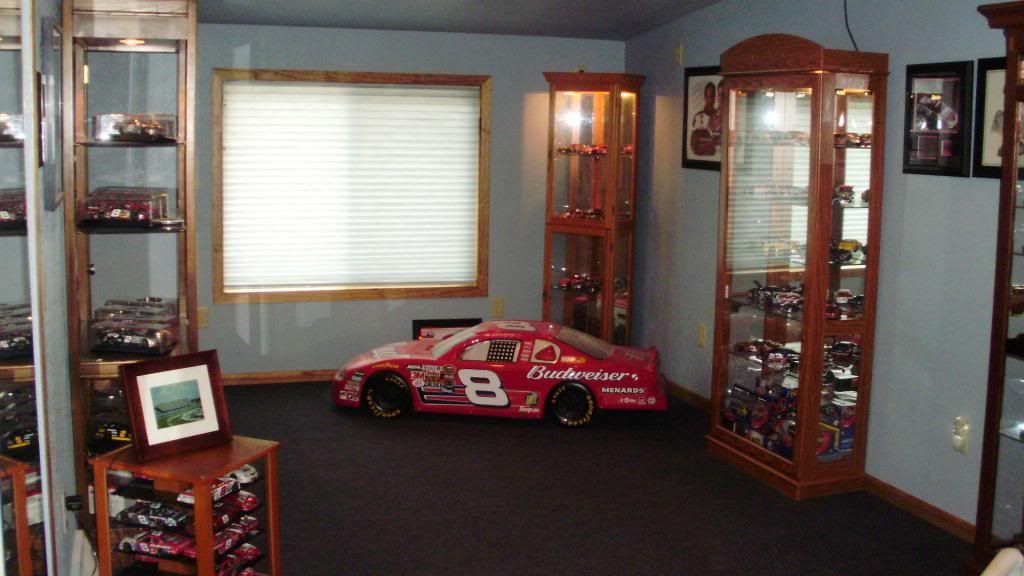 The Registry was growing, I was finding more photos & car information all the time & starting tracking GMMG's for sale.

BUT there was a big problem

....... This was not only a big expense, very time consuming & it needed to be interactive. I didn't know how to do this & considered new software but it was cost prohibitive.
I've met many great people from the Registry including JD. We've been to each others houses & attended a Car Show together. In mid November 2012 JD called me & asked if I'd ever considered an interactive site. Well, YA! JD & I have been working (almost around the clock for 10 days) getting ready to go live on December 1, 2012. Jim Simon has also been helping, We been loading information & photos so there is something to look at. What you see is the result of our efforts & we hope you will enjoy & share the Registry Forum.
An open message to Matt Murphy from Jim Smith
(huge type so Matt can't miss it)
Matt:

I know you will eventually read this.......

You have so many friends that miss you & are hoping you are doing well. You were responsible for building some of the rarest & baddest Camaro's & Trans Am's on the planet. If it wasn't for you there wouldn't be any GMMG Cars & no Registry. I am honored & privileged that you gave me the OK to start the GMMG Registry. You have a strong following that would like to say hi. I've been trying to reach out for over two years & have only been able to get messages to you once in awhile. I miss our conversations. You know JD & I will continue to promote you & your great cars & archive this for future generations. Please contact us sometime to say hi. We invite you to join us on the new GMMG Registry Forum. Your knowledge is amazing! I miss you my friend. Jim Smith