A few changes have been made to the GMMG Registry Forum Board………………… We are listening to our members........

Guests will no longer be able to view the GMMG and Non-GMMG Cars for sale unless they register on the GMMG Registry Forum Board.

Guests & Non-GMMG Owners are already blocked/restricted from viewing the GMMG Car Owners Forums as these are for GMMG car owners only.

Sometimes unregistered Guests will "surf" looking to buy a GMMG car cheap and then flip it right away. The management team of the GMMG Registry Forum Board does not encourage nor support this activity. The management team of the GMMG Registry Forum Board endeavors to attempt to protect the value of these GMMG cars.

If "Guests" are unwilling to become a member they can simply look for GMMG cars to flip elsewhere.

I now have business cars if anyone needs any.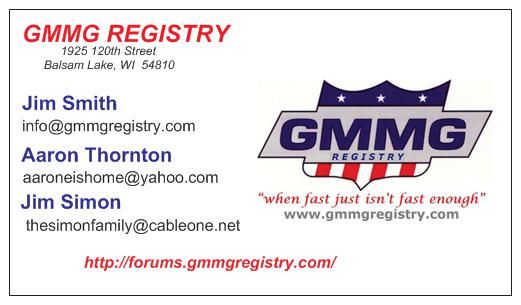 We are looking to add members and block anyone that is just trying to use the GMMG Registry for their personal gain by buying and flipping cars.

In addition the GMMG Registry has assisted a number of people buy or sell a GMMG car and many times the Registry receives no financial appreciation in return for our assistance and knowledge of these cars as well as the individuals involved with the sale and/or purchase.

J.D. and I both spend so many hours trying to help everyone and all we are asking for is some financial assistance with supporting the GMMG Registry as I (primarily) and J.D. have been footing the entire bill out of our pockets since its inception.

In an effort to have a revenue stream to cover ongoing operating costs we have implemented the following 1/2% buyer/seller fee if the GMMG Registry assists in the purchase or sale of a vehicle:
IF YOU BUY OR SELL A CAR AS A RESULT OF INFORMATION OBTAINED IN THE GMMG REGISTRY, THE GMMG REGISTRY FORUM BOARD OR RECEIVE ASSISTANCE FROM ANY MEMBER OF THE GMMG REGISTRY MANAGEMENT TEAM, YOU WILL BE EXPECTED TO MAKE A 1/2% CONTRIBUTION OF THE SALE OR PURCHASE PRICE TO THE GMMG REGISTRY TO ASSIST WITH CONTINUING OPERATIONAL EXPENSES OF THE GMMG REGISTRY.
If you are thinking about selling or buying a GMMG vehicle, please let J.D. (4th Gen Camaro Addict), Jim (GMMG Blackbird) or Jim (daytonajim) know. We attempt to keep a list in order to get sellers and buyers together.

The costs to operate the Registry are significantly higher with the new Forum Board. Donations are always appreciated.

Any and all money stays in the GMMG Registry and no member of the GMMG Registry Management team receives any financial wage or salary for their involvement with the GMMG Registry or the GMMG Registry Forum Board. At some point in time we hope to be in a position to sponsor an event or something that would be fun for all members to enjoy.

Again, we need everyone's assistance to keep the GMMG Registry moving forward and grow the membership. The GMMG Registry is for all GMMG Car owners and anyone else that is interested in GMMG modified vehicles.

Please give us your feedback, (good, bad or indifferent). We continue to make changes and improvements from the suggestions we receive from the membership.

Thanks for your understanding and your ongoing support. If you have not done so, please post photos and information regarding your car and become an active participating member.

Jim